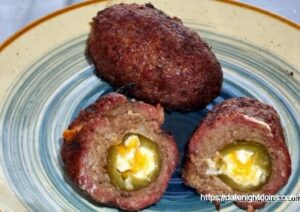 Armadillo Eggs "Wake Up your Taste Buds" with a stuffed jalapeno, wrapped in a ¼ pound of spicy sausage with a "Kiss of Smoke".
Not for the faint of heart, but just a little Zippy! These are great for Superbowl parties Tailgating and camping.
Look at these, this is our take on Armadillo Eggs. We got the idea from Smokey Dee Robinson. Patti and I made some changes. We have made 3 different recipes until we came up with one that is just plain "Over The Top".
We have been eating the "Crash and Burn" recipes for these ALL WEEK. Nice work if you can get it. Look at the picture of the sliced Armadillo egg. See the egg white and the yellow yolk? Cream and Cheddar cheeses.
This is a great Tailgating, camping and party recipe. We have served these up at 2 Tailgating cooks and have run out of them both times. Folks just can't get enough of them. They are that good.
Prep Time: 15 minutes
Cook: 350* (176c) for about 45 minutes
Grill: Pellet Pro 1190/ Pellet Pro 2300/ Pellet Pro Sidekick
Pellets: Lumberjack Competition Blend
Armadillo Eggs
A Wood Pellet Grill Recipe
Ingredients: (this list is for 2 pounds of sausage or 8 Armadillo Eggs)
1 lb. bulk breakfast sausage
1 lb. bulk Hot Italian sausage
8 Jalapenos (about thumb size)
¼ cup dried chopped onion
¼ cup dried chopped garlic
¼ cup dried red pepper flakes (more or less to taste)
2 eggs, lightly beaten
Cream cheese, Patti used the whipped
Cheddar cheese, cut into ½ inch cubes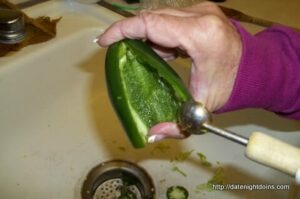 Directions:  Armadillo Eggs
Cut the stem or top off and slice the side open on your Jalapeno, clean the seeds out. (The seeds are what make a pepper hot) We used a melon baller to clean the seeds out our peppers. Then, fill it with cream cheese, about a teaspoon. When the pepper is almost full of cream cheese, stuff the cube of Cheddar cheese in the middle. Set your peppers aside while you get your sausage mixed.
I found that the easiest way to mix the sausage is on a big cookie sheet. Lay out the two pounds of sausage side by side and flatten out. Add the dried onions, garlic and red pepper and mix everything together well. Flatten out again and pour the beaten egg over it and mix it all together.
We have found that a ½ cup measuring cup gives you about ¼ pound of sausage. So, spray a measuring cup lightly with any good cooking spray (we use Duck Fat) and use it to measure your sausage. Patti does all the meat first and just lays it out on a cutting board until she is ready for it.
Take ¼ pound of sausage and flatten it out into a patty. Then, wrap it around your Jalapeno and shape it into an egg.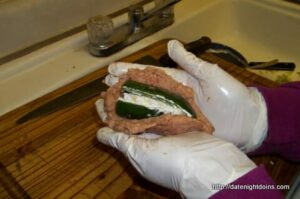 Preheat your grill to 350* (76c)
You want to grill these guys at 350* (76c) for about 45 minutes or so. You are looking for an internal temperature of 165* (75c). The jalapeno will still have a little snap to it. If you want it softer cook it a little longer or parboil frist. But, the contrast between the creamy middle, the spicy sausage and the bit of crunch is just right for us.