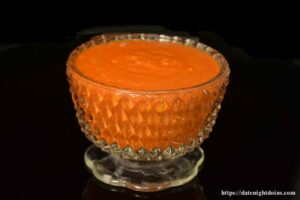 This Buffalo Sauce Recipe is delicious, easy and beautiful sauce to have in your kitchen that works well to baste chicken, pork chops or ribs on the grill. And it makes a great dipping sauce and can be served either hot or cold.
Buffalo Sauce
Prep Time: 10 minutes 
Ingredients: Buffalo Sauce 
2- 12 oz. bottles Louisiana Hot Sauce
1 stick of butter
1/4 cup dried crushed garlic
1/4 cup dried minced onion
1 Tbsp. coarse ground black pepper

Cooking Directions: Buffalo Sauce  
Mix both bottles of the Louisiana sauce with the garlic, onion, pepper and a stick of butter into a sauce pan. Simmer for 5 minutes or so to blend the seasoning and melt the butter.
That's it….
I always divide this into two bowls: 1 for sauce while cooking and then one for dipping while eating.