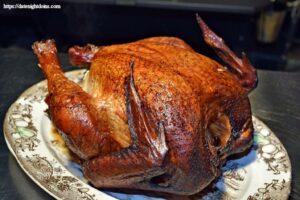 Honey Rubbed Smoked Turkey because we love the flavor of turkey with a gentle "Kiss of Smoke". Turkeys being on sale we got a few of them to smoke just for sandwiches and casseroles. Think about "Honey Rubbed Smoked Turkey sandwiches", so good…
I did a double smoke by cold smoking it first for 2 hours with Smoke Daddy's "Cold Smoke Generator" then bring up the heat and for 2 ½ hours with a Wedgie for a bit more smoke. We stood it up on a stand and injected it.
Time: 15 minutes
Cook Time: 2 hrs. cold smoke, 2 ½ hrs. @ 250* (122c)
Smoker:Big Kahuna Cold Smoke Generator
Fuel: Wood Chips and Chunks
Honey Rubbed Smoked Turkey
A Wood Pellet Grill Recipe
Ingredients: Simple Smoked Turkey 
Turkey, ours was 14 pounds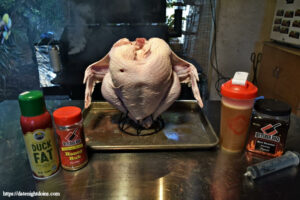 Honey Rubbed Smoked Turkey
A Wood Pellet Grill Recipe
Note: We just installed our new "Smoke Daddy Cold Smoke Generator" on our Pellet Pro® 1190 Deluxe Stainless Steel Pellet Grill. Easy to install. See video " https://youtu.be/4MTNmK-nKRc ".
CLICK: This Cold Smoked Cheese Recipe shows you how easy it to light your "Smoke Daddy Cold Smoke Generator"
Cooking Directions: Honey Rubbed Smoked Turkey 
Start your smoke generator if you are using one, for this recipe.
Mount your bird on the stand, if you don't have one that's OK. Just lay the bird down. Inject all of the Honey injector into the bird that it will hold.
Spray your bird with the Duck Fat and rub it all over. The Duck Fat acts as a binder for your seasoning and does a nice job browning and crisping the bird while adding another layer of flavor.
Dust the bird with the seasoning, I like to rub it all over the bird.
Place the bird into the grill for a 2 hour "Cold Smoke". You can skip this step if you want. Note: most things don't pick up any more smoke flavor after 2 hours.
After 2 hours turn off the air pump on the smoke generator and cap it.
Heat the grill up to 250* (122c) and light your Wedgie and add a "Hot" water pan for a nice moist smoke blend.
We went 2 ½ hours here until I had an internal temperature of 177* (80c). I like the temp between 170* and 180* because the meat flakes apart better.
U.S.D.A. safe is 165* (74c). Keep in mind that the meat will continue cooking for another 5 to 10 degrees after you pull it off the grill. I use a 5ft Meat Probe for PID Controller for checking meat temps.
Note: I get a lot of questions about the kind of pellets you can use with a recipe. Keep in mind that a recipe is just an outline. Some you need to follow closely like when you are making bread, but most you can do anything you can dream, our favorite way to cook. Feel free to mix and match the pellets until you find a combination you really like. Also, you are only smoking at temps less than 250 degrees (122c), anything higher is cooking and there will not be much if any smoke so it does not matter what kind of pellet you are using.