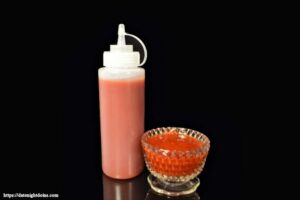 Mumbo Sauce, in my research of regional BBQ and Grilling Sauces in America, I discovered this quick and easy sauce from Washington, DC. Who would have guessed that they would have their own sauce! This is a simple sweet-and-sour sauce that is even good on a spoon!
D.C. claims this sauce as their own, but it looks like it migrated from Chicago where it was first created by Argia B. Collins in 1957 in Chicago.
Like most regional sauces it varies from kitchen to kitchen in sweetness and consistency. There is a great dispute as to the ingredients and origin. You can easily adjust this sauce form mild to hot. Here is our take on it with a Kiss of Smoked Garlic. Easy to make and goes fast so you might want to make a "Jumbo Mumbo" sauce and double the recipe.
We used our Smoked Garlic for that "Kiss of Smoke".
Mumbo sauce or mambo sauce is a condiment developed in Washington, D.C. popularized in takeout restaurants in Washington, DC. The red-orange sauce is similar to a barbecue sauce or plum sauce but sweet and tangy, and is put on fried chicken wings, French fries, fried jumbo shrimp, and fried rice.
Its origin and ingredients are subject to great dispute
Prep Time: 10 minutes
Cook Time: 10 minutes
Stove Top
Ingredients: Mumbo Sauce
1 (6 ounce) can tomato paste
2/3 cup ketchup
2/3 cup brown sugar
1 cup pineapple juice, (I used crushed pineapple and ran it through the blender)
1 cup distilled white vinegar
1 lemon, juiced (1/4 cup)
1/4 cup honey
3 tablespoons soy sauce
1 1/2 tablespoons freshly grated ginger
1 teaspoon cayenne pepper
4 cloves smoked garlic


Cooking Directions: Mumbo Sauce

I wanted a thicker sauce so for my pineapple juice I ran a cup of crushed pineapple through the blender until smooth. If you want a thinner sauce use pineapple juice. Adding the ginger and smoked garlic blending again until smooth.

Add all the ingredients into a saucepan and bring to a slow boil while stirring. Turn the heat down and simmer for about 10 minutes to let everything get happy. Stir occasionally until sauce has thickened slightly.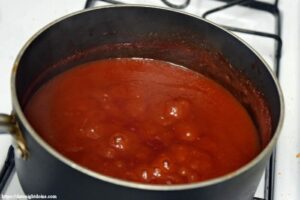 Note: Don't worry if you don't have "Smoked Garlic", use what you have.
After cooking let cool and work the sauce through a strainer with a spoon to remove solids.
(I ate the solids)
You can store this sauce in anything you like. This goes well in a squeeze bottle.
This sauce will get even better in a day or so…