Our "Poor Man's" Burnt Ends are "Off the Hook"! The burnt ends are meat candy. Burnt Ends are normally made from Brisket and that can be very expensive. You can use chuck roast. We used an 8 pound Chuckie for around $21. That's a lot of good meat for the smoker.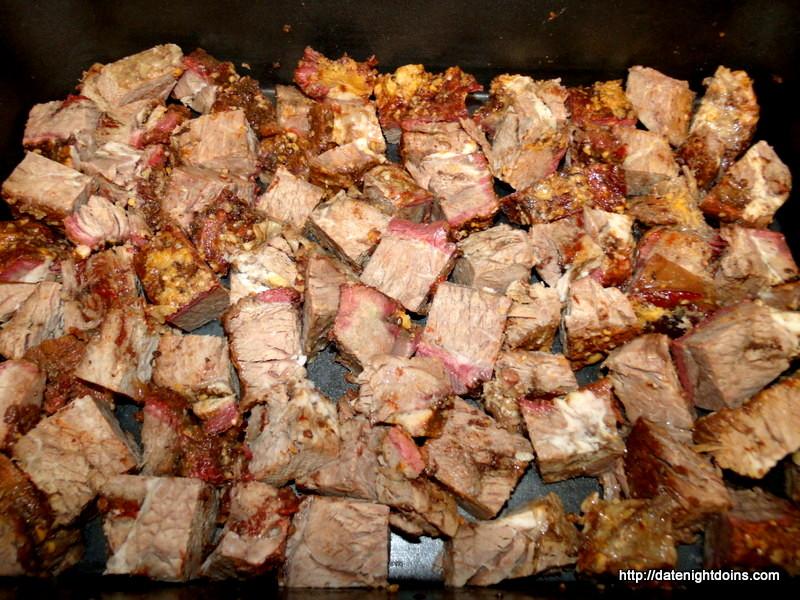 Poor Man's Burnt Ends and Tips
A Pellet Grill Recipe
Prep Time: 15 minutes
Cook Time: 2 hours @ 300 degrees (149c)
Grill: Pellet Pro Pellet Grill/Smoker
Pellets: Smoke Ring OHC
Ingredients: Burnt Ends and Tips
Cubed smoked chuck roast
2 cups of your favorite BBQ sauce
2 cups reserved juice from the roast, or beef broth
½ cup Garlic Wine Vinegar
Poor Man's Burnt Ends and Tips Cut Roast into Cubes
Directions: Poor Man's Burnt Ends and Tips
Cut the chuck roast into bite size chunks. Add the vinegar, broth/juice and BBQ Sauce mixing well. Pour your sauce mixture into the pan with the meat and mix well. Put it onto the grill at 300 degrees (149c) stirring occasionally until hot, about 2 hours. It will be done when you can't stand the wonderful smell any longer and the sauce has caramelized. Keeping in mind that the roast is already cooked and you are just blending the liquids and grilling until it caramelizes nicely.
Cooking Directions: Wood Pellet Grill/Smoker
To prepare the grill for cooking, check your pellet supply – top off or change flavors as needed. Scrape grill grates off. Set the temperature to 450 degrees and press the "Start" button. Give the grill about 15 minutes to reach temperature and the grates to burn clean.
Note: You can set the start temperature anywhere you want. I do 450 (230c) for a quick cleaning burn.
So after the grill comes up to temp and burns clean turn it back down to 300 degrees (149c). Place everything directly onto the grill and just let it hang out in the smoke and get happy stirring occasionally until hot about 2 hours or so. You are looking for the sauce and juices to blend and caramelize with the meat. I use meat thermometer for checking meat temps.You are Looking for the Juices to Blend and Caramelize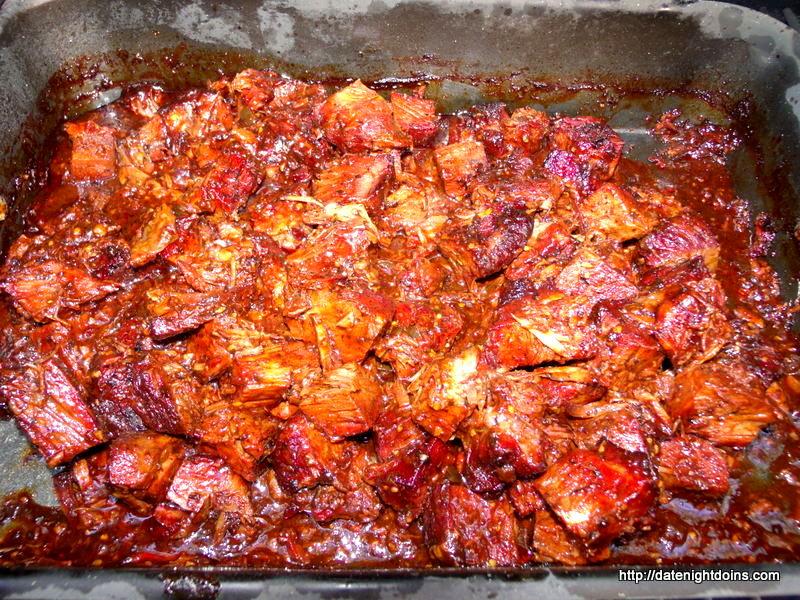 Note: I get a lot of questions about the kind of pellets you can use with a recipe. Keep in mind that a recipe is just an outline. Some you need to follow closely like when you are making bread, but most you can do anything you can dream, our favorite way to cook. Feel free to mix and match the pellets until you find a combination you really like. Also you are only smoking at temps less than 250 degrees (122c), anything higher is cooking and there will not be much if any smoke so it does not matter what kind of pellet you are using.
Ready! Let's Eat in a Bowl or…
On A Bun !!!
The important thing to keep in mind is TIME & TEMPERATURE. You can even do some of them in the oven or crock pot, but, then you lose all the flavors you get from cooking outdoors. But sometimes it does rain.
Remember that a recipe is simply an outline; it is not written in stone. Don't be afraid to make changes to suit your taste. Take it and run with it….