With our exclusive Pellet Pro® PID Controller© & universal mounting capabilities! Controller can be switched to either side of the hopper, thus can be mounted on both the left and right side of your application!
All you need to mount this into your existing or custom pellet grill, is a rectangular hole 4-1/2″ by 5-1/2″.
The hopper assemblies are either 12″ or 18″ from the center of the burn pot to the mounting edge of hopper in order for the burnpot to be as close to the center of the application as possible.
Each Hopper Assembly is carefully taken out of its packaging, is visually inspected, then is bench tested to ensure each functions properly. We then repackage every hopper in our own designed packaging which protects them from damage during the process of shipping.
*The PID Controller Operates where the fan motor and auger motor pulsate at different times. It will operate differently than other controller brands to maintain a stable temperature*
*The auger motor is designed to "float" inside of the hopper assembly. It may appear loose, although that is the design.*
| | |
| --- | --- |
| Weight | N/A |
| Dimensions | N/A |
| Auger Length | 12", 18" |
Features
Larger Hopper Capacity (35lbs Total)
Pellet Dump for Easy Pellet Removal!
Hopper Baffling System (Directs pellets into auger more easily)
The controller can be mounted on the left or right side of the hopper assembly
USA Made PID Algorithm
301 Stainless Steel Burnpot
36,000 BTUs
PID controller set in 5 degree increments
Temp range: 160°F-450°F
Heavy Duty .52 Amp Auger Motor
Upgraded 9-hole burnpot; creates a more efficient burn
Combustion fan facilitates a natural convection throughout the grill area
Smoke Setting & Grill Setting
Improved Hot Rod Design
100% Digitally Controlled
Easily Mountable
1-Year Warranty
Requires 110v outlet; ±10%
U.S.A Made Hopper Features:
Redesigned stainless burn pot; pellets drop into the fire which prevents burn back
Heavy duty welds for custom smoker applications. Perfect for trailer smoker and more
Larger hole for hot rod to prevent over heating
Large 35# hopper capacity
Heavier 15 gauge construction
Powder coated hopper with high temp paint on auger arm
Right or left hand controller mounting
Pellet pro PID controller with low smoke function
Heavy duty 2 rpm auger motor
Heavy duty 3200 rpm fan motor
Pellet removal drop
Made, Assembled and 100% inspected in the USA by Smoke Daddy Inc
Patriot Hopper Assembly Includes:
Extra Long 5ft long RTD Probe
4ft Meat Probe
Pre-Drilled leg holes** NEW
Hopper w/ mounting bolts
Complete Instructions & Mounting Template
Info and customer submitted ideas customer submitted ideas on custom uses for the Pellet Pro hopper assembly
Operating Voltage: AC 110V ±10%, 60Hz
Pellet Pro® PID Technology
The Pellet Pro® uses True PID Technology

PID Description Overview
Proportional-Integral-Derivative (PID) control is the most common control algorithm used in industry and has been universally accepted in industrial control. The popularity of PID controllers can be attributed partly to their robust performance in a wide range of operating conditions and partly to their functional simplicity, which allows engineers to operate them in a simple, straightforward manner.
As the name suggests, PID algorithm consists of three basic coefficients; proportional, integral and derivative which are varied to get optimal response. Closed loop systems, the theory of classical PID and the effects of tuning a closed loop control system are discussed in this paper.
 If you would like to see the full article click here
http://www.ni.com/white-paper/3782/en/
DO NOT BE FOOLED BY FAKE PID CONTROLLERS!

These are NOT PID Controllers:
*New* Upgraded Sportsman Algorithm
  With our newly reengineered PID algorithm named the "Sportsman Program," you are now able to set the temperature as low as 100 degrees F for smoking at lower temperatures with a pellet smoker.  Perfect for smoking jerky, sausage, fish, or anything else that doesn't require high temperatures to smoke.
    *PLEASE NOTE*  Since the hopper assembly needs to maintain a fire in the burnpot at all times, you may need to increase the ventilation by cracking open the grill/smoker door.  This will allow the heat to escape properly resulting in lower temperatures.
Manuals & Diagrams
Custom 3" Heat Diffuser Risers
For custom smokers, we offer 3″ Risers that allow the Heat Diffuser to sit 3″ above the burnpot.
This will allow adequate space for the heat to disperse evenly throughout the smoker.
Made from high quality 10ga steel.
Disclaimer
The hopper assembly is used by us for custom applications and some modifications may be required.  Our hopper assemblies function as described, although we cannot guarantee that it will work with your application.  Smoke Daddy Inc. is not liable for any damage caused by the hopper assembly to or in applications using materials or modifications not recommended to be used with the hopper assembly.  Smoke Daddy Inc. offers a 30-day money back guarantee where a full refund will be applied once product is received back in un-used condition.  Smoke Daddy Inc. will replace any factory defects within 1 year of purchase.   Any misuse or modifications made to the hopper assembly will void all warranties. Therefore, this product is being sold subject to the following:
"This hopper assembly is provided 'as is' and with the limited warranty as stated above.  Smoke Daddy makes no further guaranties or warranties of any kind, either expressed or implied, including but not limited to warranties for a particular purpose, warranty of merchantability or of non-infringement of any rights of third parties."
For questions on custom applications, please call us at 847-336-1329.
Hopper Cover
Now you can better protect your hopper assembly from the elements!
Made from high quality fabric, the cover is plastic lined which will prevent the pellets from absorbing moisture in addition to protecting the controller.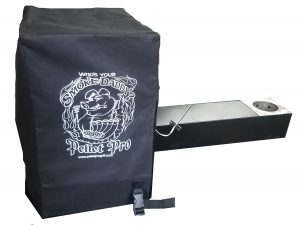 This cover is designed to fit on our 35lb capacity hopper assemblies.
It will fit on smaller capacity hoppers, although it will not be a snug fit.
Dimensions:   12″ x 14″ x 20″
Also includes an adjustable bottom strap!