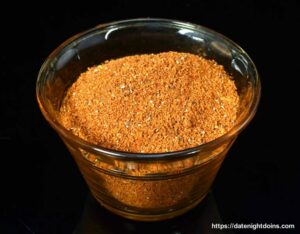 Santa Maria Rub a uniquely sweet, smoky and spicy rub from Old California, famous for its great BBQ Tri Tip.
We like to do a heavy coat to make a crust of our Santa Maria Rub on Tri Tip for grilling, roasting or smoking for Big Bold Beef BBQ. We also enjoy it on pork, chicken, potatoes and vegies.
In Santa Maria every family has their own version of this rub, I have even seen it with coffee. This one is ours. There is no right or wrong way to do it and it is easy to make and enjoy with your BBQ… We put it into a shaker on the counter it is so versatile in the kitchen.
Prep Time: 10 minutes
Ingredients: Santa Maria Rub
2 Tablespoons paprika
2 teaspoons chipotle chili powder
½ teaspoon cayenne powder
1 Tablespoon cumin
2 Tablespoons brown sugar
2 teaspoons garlic powder
1 teaspoon onion powder
1 Tablespoon Date Night Doins Heat ours (A Pepper Blend)
Santa Maria Rub Directions:
Blend all the seasoning together in a bowl. We put it into a shaker and keep it on our counter top, but you don't have to.
Sprinkle onto to your meat or chicken either a heavy or light coating to taste…