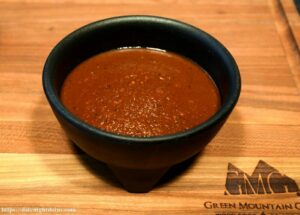 Paw Dads Texas BBQ Sauce is a delicious, super simple and beautiful sauce that goes well with anything on the grill. Remembering how my grandfather used to make this: a bit spicy and sweet that's great on any grilled meat.
It's an excellent BBQ sauce by itself, but by adding or changing some of the ingredients you can create a whole new sauce of your own. Plus, this sauce gets its smoky flavor from smoked garlic.
The building blocks for most BBQ sauces are ketchup, apple cider vinegar and dark brown sugar. These together are good, but it's easy to make them into something extra special! You can use store bought "Onion Garlic Pasta Sauce" instead of ketchup to add another layer of flavor. 
Prep Time: 15 minutes 
Ingredients: Paw Dads Texas BBQ Sauce 
2 cups Onion Garlic Pasta Sauce
¼ cup apple cider vinegar
¼ cup molasses
¼ cup Worcestershire sauce
¼ cup minced sweet onion
1 TBSP. smoked garlic sauce (we used our smoked garlic)
1 TBSP. crushed red pepper flakes
1 Tbsp. coarse ground black pepper
2 tsp. mustard

Cooking Directions: Paw Dads Texas BBQ Sauce 
Mix all the ingredients in a blender, and blend  until it gets smooth and happy.
Store in the refrigerator or freezer until needed.