With the Pellet Pro® PID Controller, maintaining steady temperatures within 5-10° of the set point is now possible!
Join Pellet Pro® and take the frustration out of smoking!
Kit Includes:
Pellet Pro® PID Digital Controller

Custom Adapter Plate
Stainless Steel 9-Hole Burnpot

6ft RTD Probe
4ft Meat Probe (2 Meat Probes with Patriot Controller)
Heavy Duty 2 RPM Auger Motor (0.45 Amp)

3200 RPM Fan Motor (0.4 Amp)

NEW* Hot Rod
Full Instructional Manual
*The mounting hole must be at least 2-5/8″ wide on the hopper assembly for the PID Controller to be mounted*
*For 20lb capacity hoppers, the auger bushing will need to be adjusted inward 1/4″ into the auger tube in order for the Auger Motor to fit inside the hopper*
**Please note, if your grilling surface is 22″ in length or smaller, we recommend the PID Controller versus the entire Rebuild Kit.  Especially in warmer climates, the upgraded components can be slightly overkill for smaller grills**

*Additional ventilation may be required if attempting to maintain temperatures below 200°F*
| | |
| --- | --- |
| Weight | 7 lbs |
| Dimensions | 13 × 9 × 4 in |
| Controller | Original PID Controller, New Patriot WiFi PID Controller |
The Original Pellet Pro® PID Controller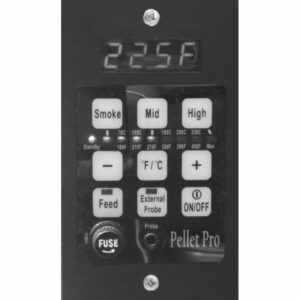 Our Original Pellet Pro PID Controller© is the ONLY pellet grill controller that uses PID Autotuning Algorithm Technology which uses a relay feedback from the RTD every 4 sec to adjust the auger feed rate and fan speed to maintain your set temperature within 5-10°±!
Features:
Temperature range from 160°F – 450°F in 5-10° increments
High setting for max temps 500°F +
Smoke Setting for temps 160°F – 200°F (predetermined timed cycle)
PID programming, holds temperature within 5-10° of where temp is set to.
PID Autotuning Algorithm Technology
Meat Probe temperature input
15 min shutdown cycle
LED temperature display
Manual Pellet Feed Option
Automatically runs start up cycle when temp drops below 130°F
Easily compatible with other brands
Operating Voltage: AC 110V ±10%, 60Hz
FREE Lifetime firmware updates.  Send PID Controller to us when there is an update to the firmware. Send the controller to us, we will update the controller at no cost and send it back to you!
Also Includes:
4ft Meat Temperature Probe
6ft RTD Probe
Unlike most controllers that are used for other brands of hopper assemblies, our PID controller will auto tune to your particular application. No need to be concerned about changing outdoor weather conditions or factors such as the pellet BTUs. Gone are the frustrating drastic temperature swings and having to manually change your settings. Our controller maintains your temperature consistently for the entire duration of long and slow cook times.
*The PID Controller is recommended for smaller sized grills (22″ grill length or smaller) versus the Complete Rebuild Kit.*
*Additional ventilation may be required if attempting to maintain temperatures below 200°F*
Video
The Pellet Pro® True PID Controller
The Pellet Pro® uses a True PID Controller
PID Description Overview
Proportional-Integral-Derivative (PID) control is the most common control algorithm used in industry and has been universally accepted in industrial control. The popularity of PID controllers can be attributed partly to their robust performance in a wide range of operating conditions and partly to their functional simplicity, which allows engineers to operate them in a simple, straightforward manner.
As the name suggests, PID algorithm consists of three basic coefficients; proportional, integral and derivative which are varied to get optimal response. Closed loop systems, the theory of classical PID and the effects of tuning a closed loop control system are discussed in this paper.
 If you would like to see the full article click here
http://www.ni.com/white-paper/3782/en/
DO NOT BE FOOLED BY FAKE PID CONTROLLERS!

These are NOT PID Controllers:
*New* Upgraded Sportsman Algorithm
  With our newly reengineered PID algorithm named the "Sportsman Program," you are now able to set the temperature as low as 100 degrees F for smoking at lower temperatures with a pellet smoker.  Perfect for smoking jerky, sausage, fish, or anything else that doesn't require high temperatures to smoke.
    *PLEASE NOTE*  Since the hopper assembly needs to maintain a fire in the burnpot at all times, you may need to increase the ventilation by cracking open the grill/smoker door.  This will allow the heat to escape properly resulting in lower temperatures.
PID Controller Manual
Attaching to a Pellet Grill with a Horizontal Controller
If you need to mount the PID Controller to a hopper assembly that it designed for a horizontally mounted controller, please select the option to "Add Mounting Hardware for a Horizontally Mounted Controller" before adding to cart.
Since the PID Controller is vertically mounted, additional modifications may be needed in order to mount correctly.
Please check out the video below to view the mounting process.
Compatibility
This controller is compatible with most Pellet Grill Brands!! (I.E. Traeger, Pit Boss, Camp Chef…)
It is Not Compatible with Green Mountain Grills or Tailgating style Grills.
*The mounting hole must be at least 2-5/8″ wide on the hopper assembly for the PID Controller to be mounted*
NOTE*  Due to the upgraded connector for the RTD Probe, it may be required to open up the hole on the side of the grill in order to mount the RTD Probe that is included with the PID Controller.
**If your application's connectors are not compatible with the Pellet Pro® Controller©, wires can be spliced together. ALTHOUGH, be sure positive and negative connections are correct.**