This fully insulated Pellet Pro Double Door is our largest vertical pellet smoker available. If you are looking for a large Vertical smoker this is it.
The Footprint measures H-56″ X W-54″X D-28″
External Cabinet size is H-52″ X W-39″ X D-28″
Internal cabinet size is H-31″ X W-36″ X D-26″ = 16.8 cubic feet.
Plenty of room for 6 – 20lb Briskets or 18 – 8lb Pork shoulders or 24 – 3lb Chickens. With 6 rib racks you can smoke 30 racks of ribs at one time! (Extra rib racks sold separately)  You can also hang 75 LB of sausages. The convection fan will help keep an even temperature throughout the smoker.
 Features
The Cabinet weighs 425 LB with pellets and features 1″ thick fully insulated walls
The controller is positioned up high for easy access and allows for better reading in the sunlight.
Comes with our exclusive Pellet Pro PID controller that will hold your set temp within 5 to 10 degrees from 160F to 350F
Free lifetime upgrades. If we ever update our algorithm, send in your controller and we will update it for free, just pay for the shipping
Designed for easy installation
Features our hopper with easily accessible components
Includes a true convection fan on the top to help circulate the heat evenly
2 – rib racks that can hold 5 racks of ribs each
2 – drip pans with handles for easy removal
2 – disposable full size aluminum pans for water and grease management
2 – disposable aluminum half pans for grease capture
6 – 16-1/2″ X 23-1/2″ grill grates.
There are 7 levels on each side which will allow you to put up to 14 grill grates. Each grate can hold one disposable full size aluminum pan. Each level is 3-1/2″ apart. (Extra grates sold separately)
Includes our Heavy D Heat diffuser which allows you to burn large chunks of wood for that stick burner style smoke.
2 reverse flow style chimneys.
2 daisy wheel vents on top to help manage heat
4 temperature gauges on the front to provide a quick glance at the temperature.
Has a 40lb capacity hopper for long overnight smokes.
Pellet sight window
A securely mounted heavy duty .50 Amp;  30 watt; 2 RPM auger motor.
Our new Vortex style burn pot! Creates a Vortex air circulation to help remove ash and provides for a cleaner burn
The auger tube is positioned higher in the burn pot to reduce the possibility of a burnback. Pellets now drop into the fire.
Pellet removal chute.
110 volt outlet with 2 outlets and 2 USB ports for added convenience
*Our Recommendation*
We recommend using a disposable aluminum pan on the bottom shelf to catch any grease or drippings. This will prevent an abundance of grease falling onto the drip pan which may result in a grease fire.
Not only will this prevent a grease fire, but it will also increase the humidity which will help keep your meat moist.
*PICKUP DEAL*
For any pickup orders, receive 240lbs of pellets for FREE!  Choose the flavors you'd like!
*Please allow 5-10 business days for delivery*
| | |
| --- | --- |
| Weight | 425 lbs |
| Dimensions | 42 × 26 × 54 in |
Videos
Pellet Pro® PID Technology
The Pellet Pro® uses True PID Technology

PID Description Overview
Proportional-Integral-Derivative (PID) control is the most common control algorithm used in industry and has been universally accepted in industrial control. The popularity of PID controllers can be attributed partly to their robust performance in a wide range of operating conditions and partly to their functional simplicity, which allows engineers to operate them in a simple, straightforward manner.
As the name suggests, PID algorithm consists of three basic coefficients; proportional, integral and derivative which are varied to get optimal response. Closed loop systems, the theory of classical PID and the effects of tuning a closed loop control system are discussed in this paper.
 If you would like to see the full article click here
http://www.ni.com/white-paper/3782/en/
DO NOT BE FOOLED BY FAKE PID CONTROLLERS!

These are NOT PID Controllers:
*New* Upgraded Sportsman Algorithm
  With our newly reengineered PID algorithm named the "Sportsman Program," you are now able to set the temperature as low as 100 degrees F for smoking at lower temperatures with a pellet smoker.  Perfect for smoking jerky, sausage, fish, or anything else that doesn't require high temperatures to smoke.
    *PLEASE NOTE*  Since the hopper assembly needs to maintain a fire in the burnpot at all times, you may need to increase the ventilation by cracking open the grill/smoker door.  This will allow the heat to escape properly resulting in lower temperatures.
Convection Fan
Our New Convection Fan designed for the Pellet Pro® Vertical Smoker!
The Convection Fan helps eliminate hot and cold spots inside of a smoker and circulates the heat evenly throughout the area.
This can also be used for custom smokers!
This convection fan is very easy to install and operates quietly.
Features:
Fan Blade Diameter:  6″
Shaft Length: 1″
Runs off an independent 110v power supply.
High Quality Toggle Switch
Can be mounted to almost any smoker application
Shipping Policy
When ordering, please provide a phone # so that that freight company can contact you.
Shipping Options:
Ship to a Business with a Forklift or Loading Dock (FREE)
Ship to the Nearest Terminal for Pickup (FREE)
Ship to a Farm Address With a Forklift ($75)
Ship to a Residential Address ($150)
Home deliveries from the Freight terminal are the buyers responsibility to arrange. Please allow 5-7 business days for delivery.
International Freight Shipping
A customs broker is needed to process clearance at the border.  Any taxes and duties are the customer's responsibility.  Please provide contact information for your preferred broker in the order notes.  If you do not have a preferred broker, we can assist you in getting in contact with one.
**PLEASE NOTE**  Due to the pandemic, freight shipments may experience slight delays. 
Product Warranty
We offer a 30-Day Money Back Guarantee after the received date.   If you are not satisfied with the product within the 30-Day period, we will arrange the product to be shipped to our location in addition to a full refund.  After this 30-Day period, you (the customer) are responsible for return shipping.
The customer is responsible for shipping costs to send failed components back to Smoke Daddy Inc.  SDI will be responsible for shipping costs for replacements to the customer.
Once the faulty component has been inspected by SDI, SDI will ship out the replacement component within 1-2 business days of receiving.  If the component is not found faulty, then the problem must be determined between SDI and the Customer.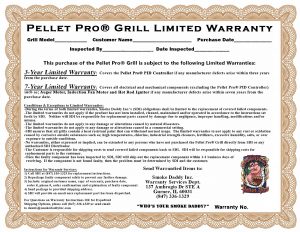 Instructions for Warranty Services:
Call SDI at (847) 336-1329 for returns or issues.
Repackage faulty component safely to prevent any further damage
Include: original customer name, copy of original order, purchase date, order #, and explanation of problem.
Send package to provided shipping address
SDI will provide an email once replacement part has been dispatched
Send Warrantied Items To:
Smoke Daddy Inc.
Warranty Services Dept.
173 Ambrogio Dr STE B
Gurnee, IL 60031
The "Heavy D" Stick Burning Heat Diffuser
Turn your existing pellet grill into a stick burner to produce that GREAT stick burner smoke!
Now included with the Double D Vertical Smoker!
Features:
Diffuser made from heavy 10 gauge steel for even heat distribution and will not warp.
Perforated cavities allow the wood to smolder from the burnpot fire and keeps the wood burning.
Removable end plate prevent the wood from igniting which would increase the grill temperature.
Uses either a large wood stick or a few large wood chunks.
Lasts for about 2-3 hours.
Made in the U.S.A.!!
*Please Note:  Due to the additional heat produced from the wood, you may need to crack the grill lid in order to maintain your desired temperature.  After wood has been burned completely, the lid can then be closed as normal.*
*Patent Pending*