The "Original" Pellet Pro® Sear Daddy Pellet Grill Searing Station!
Don't settle for cheap "Hacks" or Imitations!
The #1 drawback with pellet grills is that they cannot achieve a direct sear. Pellet Grills have always been designed to function as a wood fired smoker. Not Anymore!
With the Universal Sear Daddy, the option to flame broil is now possible! Produce those beautiful sear marks on steaks, hot dogs, chicken, brats, and much more.  Grill Grate Temperatures of 700° to 800°.
Extremely easy to install and use!
Flavor Bars made from High Quality 301 Stainless Steel!
Lava Rock Included
The USA version is now available and is made from THICK GAUGE STEEL with removable STAINLESS STEEL flavor bars.
The Sear Daddy will fit directly on Pellet Pro®, Traeger, Pit Boss, Camp Chef, Rec Tec, and any others that are designed with the burnpot in center of the cooking chamber and a 19 1/2″ bottom grate width.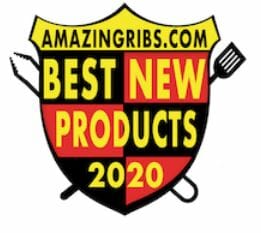 Review from Date Night Doins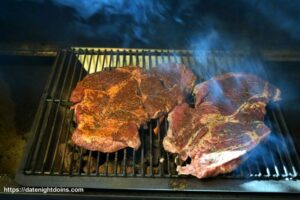 Review of the Universal Sear Daddy, I was talking BBQ with Dennis of Smoke Daddy a few weeks ago. He told me about his new Universal Sear Daddy that will fit most any pellet grill with a center fire pot and a 19 ½ " grill grate. Well, you know me I had to try one out!
Smoke Daddy sent us one and Patti and I gave it a good work out. We thought we would do some "Blackened" steaks and burgers to see how it does.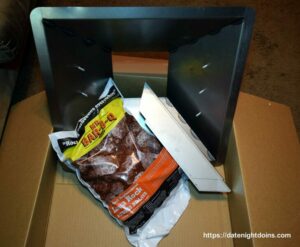 The Universal Sear Daddy comes with everything you need and is easy to set up on any grill.
Patti set it up as I was playing with the camera.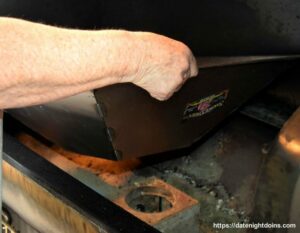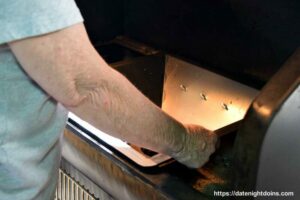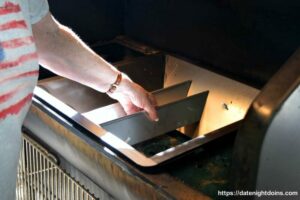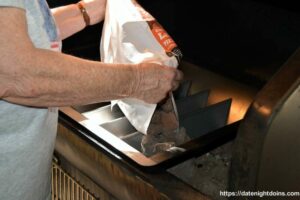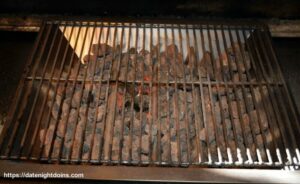 I like to do a good cleaning burn for any manufacturing oils. So, set your grill on "High" and let it burn clean for a ½ hour or so. High or just 450* on my grill was 981*on the Sear Daddy. That's HOT!!!
You are going to want to play with this a bit before you cook on it. Your "High Temp" will vary with different grills and pellets as the don't all burn the same. I found for my steaks and burgers 285* on my GMG gave me a temp around 550* on the Sear Daddy, right in the ballpark for what we were doing.
Keep in mind that this is a "Blackened Steak" it is black from the seasoning and not the Sear Daddy.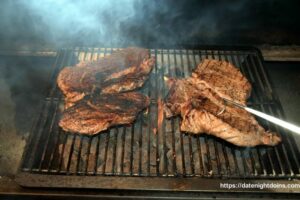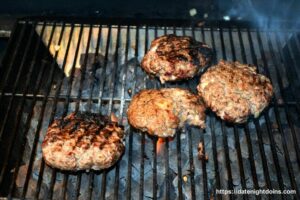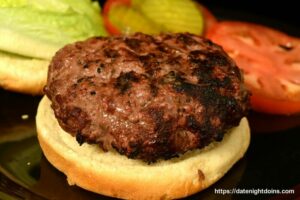 We think everyone will love the Universal Sear Daddy. It will do lots more than just sear steaks and burgers.
Think about setting a set of Grill Grates over it or a cast iron skillet for your skillet recipes.
I have a cast iron griddle that will go on it. Or set a pizza stone on it…
You can have a lot of fun with the Universal Sear Daddy.
The Universal Sear Daddy will fit directly on the Pellet Pro, Green Mountain Grill, Traeger, Pit Boss, Camp Chef, Rec Tec and any others with a center firepot and a 19 ½ " bottom grill grate width.
The important thing to keep in mind is TIME & TEMPERATURE.
Remember that a recipe is simply an outline; it is not written in stone. Don't be afraid to try the Universal Sear Daddy. Take it and run with it. You'll be delighted you did.
Live your Passion and Do What You Love,
Ken & Patti
Our Thanks to:
Smoke Daddy Inc.
847 336 1329
https://smokedaddyinc.com/
Mail to : smokedaddyinc@msn.com