Features:
Temperature range from 160°F – 450°F in 5-10° increments
High setting for max temps 500°F +
Smoke Setting for temps 160°F – 200°F (predetermined timed cycle)
PID programming, holds temperature within 5-10° of where temp is set to.
PID Autotuning Algorithm Technology
Meat Probe temperature input
15 min shutdown cycle
LED temperature display
Manual Pellet Feed Option
Automatically runs start up cycle when temp drops below 130°F
Easily compatible with other brands
Operating Voltage: AC 110V ±10%, 60Hz
FREE Lifetime firmware updates.  Send PID Controller to us when there is an update to the firmware. Send the controller to us, we will update the controller at no cost and send it back to you!
Also Includes:
4ft Meat Temperature Probe

6ft RTD Probe
Unlike most controllers that are used for other brands of hopper assemblies, our PID controller will auto tune to your particular application. No need to be concerned about changing outdoor weather conditions or factors such as the pellet BTUs. Gone are the frustrating drastic temperature swings and having to manually change your settings. Our controller maintains your temperature consistently for the entire duration of long and slow cook times. Also available is our own custom made wire harness. It enables you to operate two or even three hopper assemblies with one controller on larger applications
We also offer refurbished PID Controllers for $124.99! 
*Additional ventilation may be required if attempting to maintain temperatures below 200°F*
| | |
| --- | --- |
| Weight | 2 lbs |
| Dimensions | 9 × 6 × 5 in |
| Condition | New, Refurbished |
| Adapter Plate | With Adapter Plate, Without Adapter Plate |
Pellet Pro® PID Technology
The Pellet Pro® uses True PID Technology

PID Description Overview
Proportional-Integral-Derivative (PID) control is the most common control algorithm used in industry and has been universally accepted in industrial control. The popularity of PID controllers can be attributed partly to their robust performance in a wide range of operating conditions and partly to their functional simplicity, which allows engineers to operate them in a simple, straightforward manner.
As the name suggests, PID algorithm consists of three basic coefficients; proportional, integral and derivative which are varied to get optimal response. Closed loop systems, the theory of classical PID and the effects of tuning a closed loop control system are discussed in this paper.
 If you would like to see the full article click here
http://www.ni.com/white-paper/3782/en/
DO NOT BE FOOLED BY FAKE PID CONTROLLERS!

These are NOT PID Controllers:
Compatibility
This controller is compatible with most Pellet Grill Brands!! (I.E. Traeger, Pit Boss, Camp Chef…)
It is Not Compatible with Green Mountain Grills or Tailgating style Grills.
*The mounting hole must be at least 2-5/8″ wide on the hopper assembly for the PID Controller to be mounted*
NOTE*  Due to the upgraded connector for the RTD Probe, it may be required to open up the hole on the side of the grill in order to mount the RTD Probe that is included with the PID Controller.
**If your application's connectors are not compatible with the Pellet Pro® Controller©, wires can be spliced together. ALTHOUGH, be sure positive and negative connections are correct.**
The PID Controller Adapter Plate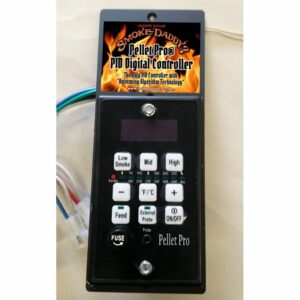 The adapter plate allows you to upgrade your Traeger, Camp Chef, Pit Boss, an many other similar style grills!
Will work perfectly with any grill brand where the measurement between the screw holes are 5″ apart.
*New* Upgraded Sportsman Algorithm
  With our newly reengineered PID algorithm named the "Sportsman Program," you are now able to set the temperature as low as 100 degrees F for smoking at lower temperatures with a pellet smoker.  Perfect for smoking jerky, sausage, fish, or anything else that doesn't require high temperatures to smoke.
    *PLEASE NOTE*  Since the hopper assembly needs to maintain a fire in the burnpot at all times, you may need to increase the ventilation by cracking open the grill/smoker door.  This will allow the heat to escape properly resulting in lower temperatures.
Attaching to a Pellet Grill with a Horizontal Controller
If you need to mount the PID Controller to a hopper assembly that it designed for a horizontally mounted controller, please select the option to "Add Mounting Hardware for a Horizontally Mounted Controller" before adding to cart.
Since the PID Controller is vertically mounted, additional modifications may be needed in order to mount correctly.
Please check out the video below to view the mounting process.
Disclaimer
The Pellet Pro® PID Controller is used by us as a retrofit for many different brands of pellet grills.  Some brands may not be compatible with the PID Controller as it is designed to be used with a 2 rpm 0.4 amp auger motor and .48 amp fan motor. Smoke Daddy Inc. is not responsible for any misuse of the PID Controller that may cause damage to the customers' grill or any other property. Smoke Daddy Inc. offers a 30-day money back guarantee where a full refund will be applied once product is received back in un-used condition. Therefore, this product is being sold subject to the following:
"This PID Controller is provided 'as is' and with the limited warranty as stated above. Smoke Daddy makes no guaranties or warranties of any kind, either expressed or implied, including but not limited to warranties for a particular purpose, warranty of merchantability or of non-infringement of any rights of third parties."
Product Warranty
The customer is responsible for shipping costs to send failed components back to Smoke Daddy Inc.  SDI will be responsible for shipping costs for replacements to the customer.
Once the faulty component has been inspected by SDI, SDI will ship out the replacement component within 1-2 business days of receiving.  If the component is not found faulty, then the problem must be determined between SDI and the Customer.
Instructions for Warranty Services:
Call SDI at (847) 336-1329 for returns or issues.
Repackage faulty component safely to prevent any further damage
Include: original customer name, copy of original order, purchase date, order #, and explanation of problem.
Send package to provided shipping address
SDI will provide an email once replacement part has been dispatched
Send Warrantied Items To:
Smoke Daddy Inc.
Warranty Services Dept.
173 Ambrogio Dr STE B
Gurnee, IL 60031
PID Controller Manual
Refurbished Models
Our Refurbished PID Controllers have been thoroughly tested and are guaranteed to function as advertised for many years.  Most are in great condition and may show signs of slight usage.  They will also have the newest firmware.
Each refurbished PID Controller has a full 1-year warranty.