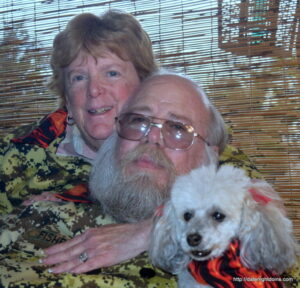 Ken Patti & Rat

Date Night At our house is special…
Date Night Doins BBQ For Two, About us,  Patti and I have set one night a week just for us. It's our date night. We usually put something special on the grill but sometimes we cook inside.
We have over a 1000 recipes and videos all with step by step pictures to show you just how easy it is to do Great BBQ…
We always eat outside on our patio. We have done it with a bit of a rainforest theme, little lights, candles, lanterns and surround sound. Where we enjoy a little wine, or strawberry margaritas using frozen strawberries for ice, good food, music and sometimes a dance or two…
Our goal here is not just to be another BBQ web site, but to share time with your significant other while doing some good BBQ.
Try to share some of the fun that we are having with family and friends.
You may also notice that we are just a little fond of hickory smoke, garlic, bacon, Chipotle, chili, sweet onions and red pepper.
Pay this no thought, as they are good for you…
Most of these recipes are mine and Patti's, some are my Mothers. We also post our "Guest Chef" recipes.
We have included a few of the desserts that our "Crash Test Dummies" work for.
You may have seen some of them before or may have your own version that your family likes.
If you need a recipe for something special send us an email and we'll try to find one for you.
Or, if you have a special family recipe you would like to share send it to us and we'll try it…
Hey Guys, we have 11 Cookbooks out now!!!
Our cookbooks are big picture books showing you just how easy it is to be a "Grill Master" with step by step pictures!
All of our Cookbooks have hit #1 on Amazon!!!