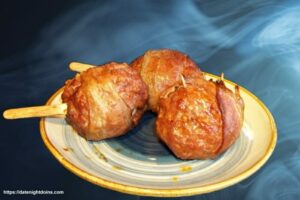 Scotch Eggs, A friend of ours showed us this little trick, and we have been working on it for three weeks now and made it into a work of art. These things are WONDERFUL; so far everyone who has tried one says "Oh My Gosh, these are great!!!" And being the Chef those words are music to my ears.
Our Scotch Egg is a hardboiled egg, wrapped with a quarter pound of sausage, then wrapped with a strip of thick cut bacon and put onto a stick. These are perfect for your Tailgating and Super Bowl parties or just a weekend get together. The fun part is that you don't have to use only one kind of sausage. We make them using all kinds of sausage from smokin' hot to mild and not, just pork sausage. We've also made them with well seasoned ground lamb!
I think besides the "Off the Hook" flavor, it's the texture that you experience as you eat this that makes them so good. First you see it, looks like something good to eat. You smell it, yup. Then, you taste that first bite of bacon, then the layer of sausage followed by the soft creamy egg. Oh my, these were really so good.
Keep in mind that when we make these we are doing 20 or more at a time. The following recipe will be for 8, using two pounds of sausage.
Scotch Eggs
A Pellet Grill Recipe
Prep Time: 15 minutes
Cook Time: 30 minutes smoke, 30-40 minutes cook @ 350* (177c)
Grill: Pellet Pro 1190/Pellet Pro 2300/ Pellet Pro Sidekick
Pellets: Apple/Cherry
Ingredients: Scotch Eggs
8 hardboiled eggs, peeled
2 lbs. sausage of your choice (I like a hot breakfast sausage, Patti loves ground lamb)
8 strips of thick sliced bacon (We like peppered bacon)
8 Popsicle sticks, soaked in water for 30 minutes
Directions: Scotch Eggs
Boil and peel your eggs and set them aside. Divide your sausage into ¼ pound balls and flatten out. I find that if you flatten out the sausage it goes around the egg a little easier. Have a bowl of water so you can dip your hands in it to just moisten. When you are forming your sausage balls the meat won't stick to your hands if they are damp.
Tip: A 1/4 measuring cup works well for measuring the meat.
Press the sausage around the egg making it as tight as you can without crushing the egg.
Wrap it with a strip of bacon. You don't need anything to hold the bacon, it will stick by itself.
Now, take your Popsicle stick and push it into the meatball and firmly into the egg.
You are ready for the grill.
I like to smoke these 30 minutes before I turn the heat up to 350* (177c) for 30-40 minutes. You can skip the 30 minute smoke if need be. But, it will add another layer of flavor.
Preheat the Smoker to 225* (122c).
Place your Scotch Eggs directly onto the grill and just let it hang out in the smoke and get happy for 30 minutes or so.
30 minutes in the smoking is not enough to have any cooking effect on your meat but it is enough to open the pores so that the meat can pick up that "Kiss of smoke".
After 30 minutes, bring the grill up to 350* (174c), I did about 30 minutes here at 350 (174c) going an internal temp "of 165* (73c), USDA safe.
When the meat reaches an internal temp around 165* (73c) pull it off, cover it and let it rest for 10 minutes before serving. Keeping in mind that the meat will continue cooking for another 5 – 10 degrees after you pull it off the grill.