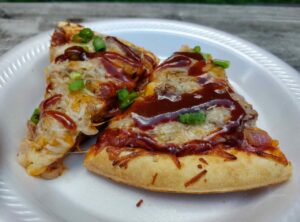 We just finished a big cook here and had a good amount of Pulled Pork and Pulled Brisket, but we didn't want to have sandwiches for the next weeks to come. How else do you mix it up? We put it on one of the most versatile dishes of course, pizza!
Leftover Pulled Pork/Brisket Pizza
A Wood Pellet Grill Recipe
Prep Time: 15 minutes
Cook Time: 10 minutes at 375 degrees
Grill: Pellet Pro 1190/ Pellet Pro Sidekick
Pellets: Apple/Pecan/Cherry
Ingredients:
1 ready made pizza crust
2 cups pizza sauce
Leftover Pulled Pork/Brisket
Garlic
Olive Oil
Oregano
Your favorite BBQ sauce
Bell Pepper
Sweet onion, thin sliced
Green onion, thin sliced
1 cup mozzarella cheese
1 cup cheddar cheese
Directions:
Pre-heat Pellet Pro to 350°
Saute meat and veggies until veggies are done.                                                                                                                                             
Mix olive oil with garlic and pinch of salt
Brush pizza crust with the mixture
Mix BBQ sauce and pizza sauce together and spread on pizza crust
Add meat and veggie mixture to pizza and top with a mixture of Mozzarella & Cheddar cheese                                                         
Sprinkle with oregano
Cook until desired doneness
Top with green onions.