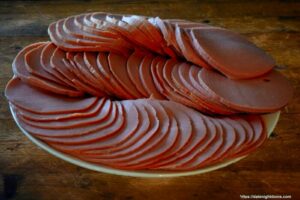 Cold Smoked Baloney, an easy flavorful treat. We do a 10-pound chub of baloney every month. Normally we do a "Hot" smoke. (over 100*)
Cold Smoking is done under a 100*.
We gave it a two hour "Kiss of Smoke" I can say that we were not disappointed. Slicing both thick and thin slices for delicious snacks and sandwiches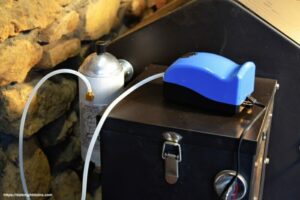 Prep Time: 10 minutes
Cook Time: 2 hours Cold Smoke
Grill: Pellet Pro 1190/Pellet pro 2300
Pellets: Apple, Cherry, or Pecan
Ingredients: Cold Smoked Baloney 
Cooking Directions: Cold Smoked Baloney
This is a super simple one to do. You don't even start the grill for this one. The Baloney is already cooked and we are just giving it a 2 hour "Kiss of Cold Smoke".
Start up the "Smoke Daddy" cold smoke generator", you can use what ever you like. Wood chuck, chips or pellets. I have tons of pellets so that's what I use.
For 2 hours of smoke I fill the "smoke generator" about halfway up. I keep a small jar of cotton ball soaked in alcohol that I use for my fire starter. Just place 1 cotton ball in the bottom and light it. That's all it takes and the part I like best is it's cheap, easy and clean, with no after taste.